We Can Give Your Home The Second Chance It Deserves!
From our experience, sometimes the best homes don't sell the first time they are on the market.
Each of the real-life, case studies below involve a house that another agent attempted to sell, but was unable to get the job done. Long story short, the seller eventually hired us and we sold the home for them with great success.
*Note: These are just a small sample of the homes that the Ruth/Chris Real Estate Team were able to bring back to life.
---
Case Study #1
: Beth's home was for sale for nearly
3 months with no offers and minimal showing activity
. The seller hired us and we had it under contract in 4 days for $8,000 over what the previous agent had it listed for!
Actual Review From This Satisfied Seller:
"Chris and Ruth are the BEST! They are up on the latest technology and ways to sell. The Video Tour of my home was off the charts "FANTASTIC" and gave the needed personal touch. We had some challenges to get past and Chris/Ruth was on it and the results were great! They taught me a few things too. Their respectfulness, kindness, compassion and determination along with the ability to be tough in negotiations makes them such a win-win team!! I feel very blessed I had them, and as we got to know each other, I will always support them and recommend them highly! They are truly the BEST! My original realtor fell through and his timing was perfect and (Chris) asked if he may have an interview. After receiving the most professional package and preparations needed for sale, I knew they were the ones that would make the sale happen – even though i interviewed realtors with 20 yrs experience and good track records too. Go with them, you won't be disappointed! They are good people with good hearts, and do the right things..they are truly a win-win team! Thank you!"
Beth C. (referenced on HAR.com)
Case Study #2
: Brian & Andreas' home was
for sale for nearly 6 months
with another Realtor with zero
offers and less than 3 showings
! The seller hired us and we
sold it in less than 90 days
! Below we have two pictures of this home. We just have one important question to ask you…
Which Of The Homes Below Would You Buy??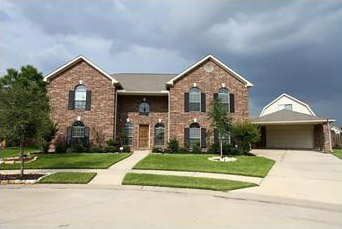 Typical Picture Of Home.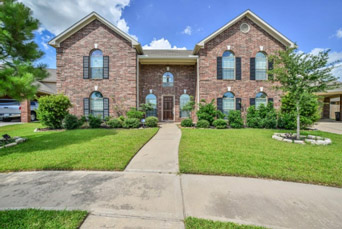 Same Home, Better Picture!
One Of The Most Critical Components Of Selling Your Home For Top Dollar Is How It's Presented To The Marketplace.
***Have you ever seen a bad photo in a BMW Ad?***
Of Course Not! Stunning photographs sell homes for more money and sell them faster! We're sure you have heard the saying, "A picture is worth a thousand words." We are often shocked when we see some of the pictures people use to market homes. We take as many of the best quality pictures that demonstrate all of the features your home as to offer.
End Result =
Happy Family!!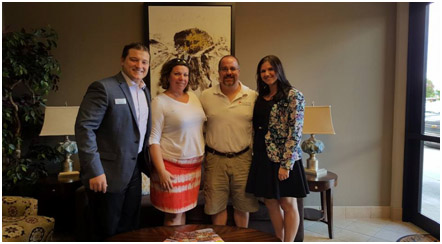 LAST ONE…WE PROMISE!!
Case Study #3
: Tom and Gina were just about to throw in the towel and "Call It Quits" with the sale of their Katy home, after they had it on the market for several months with nothing to say for it. That was until they hired us to
re-position their home on the market and bring it back to life!
After many obstacles and challenges, we were able to overcome all adversity and sell their home for a record price! *for this specific layout in the neighborhood.
BEFORE:
Poor Angle
Bad Lighting
Not Vibrant
Screams "Low-Ball" Offer
No Urgency Created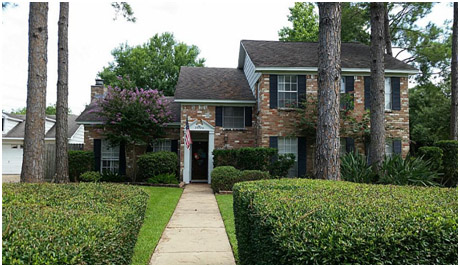 AFTER:
Professional Angles
Vibrant Lighting
Jumps Off The Screen
Creates Urgency
Commands Top $$
Strong 1st Showing Online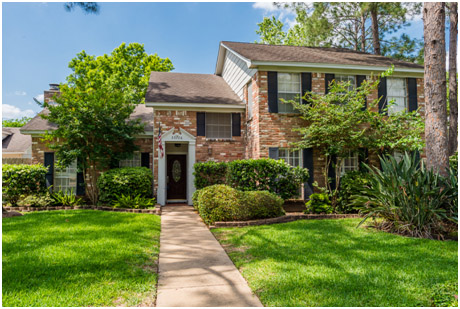 Nowadays, The First Showing Happens On The Internet!
THIS CAN STILL BE YOU!!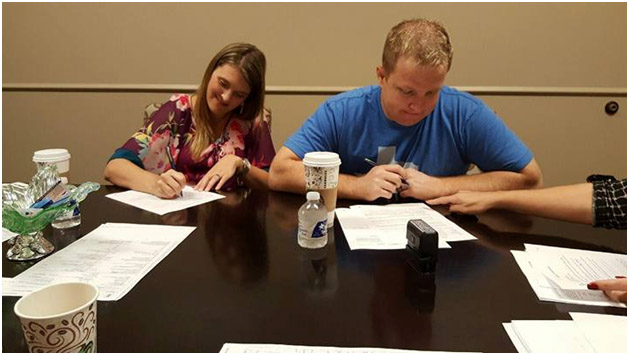 It's Not Too Late To Sell Your Home…
If you are still interested in selling your home, contact us today so we can discuss the next steps involved with giving your home the second chance it deserves.
If you are still planning on re-listing your home with the same agent you used before, ask yourself this one very important question: "What are they going to do differently this time around to get my home sold?" Truth be told, they are most likely planning on implementing the exact same strategy they used the last time. This happens to homeowners all too often because they feel obligated to work with the same agent. The fact of the matter is that you don't owe anything to us, nor do you owe anything to the other agent. However, you do owe it to yourself to make sure that you have the very best person handling the sale of your home.
If you decide to reach out to us, we promise that we will not waste your valuable time, and at the very least, we can provide you with some insight as to why your home didn't sell the first time around. Thanks for taking the time to read through this, we trust that we will be hearing from you soon!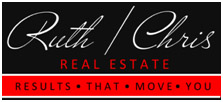 WHAT OTHERS ARE SAYING…
Exceptional Handling of My Property Sale!
"I can't say enough great things about my experience with Chris Glapa & Ruth. They succeeded where three other real estate agents failed due to some title issues. I would use him again in a second!"Francis – Katy Homeowner
Great Experience!
"From the first meeting until the closing on selling our house both Chris and Ruth were professional in every way. They provided us with all the information we needed. Throughout the process they were available for our questions and concerns. They went above and beyond to help with the sale of our house. Their enthusiasm was refreshing. I would recommend them to anyone selling a house."Mona Howe – Homeowner
They are awesome to work with!
"Would never go with anyone else. They get the job done."Stephanie – Homeowner
Great Team!
"Chris and Ruth are a great team to work with. They are always available and willing to do whatever needed. They were very patient with us when the market changed and we had a certain price we needed to stay around. They are always on your side and will guide you in a encouraging and supportive way."Gina – Katy Homeowner
Ruth/Chris Real Estate rock!
"We made an excellent choice going with Ruth/Chris Real Estate! They sold our house within a few days, for a price higher than our asking price (in fact, I believe the selling price set a record for our neighborhood)! Throughout the process Ruth/Chris were very honest, dependable, informative, knowledgeable/competent and went well above and beyond our expectations. On top of that, they are very friendly and fun to work with. They made a potential stressful experience a truly enjoyable one. I will certainly recommend them to anyone that is looking for a great realtor!"Brandon – Homeowner
After more than 10 moves, I can say Ruth and Chris are the best.
"Between the two of us, my husband and I have moved more than 10 times. After all those moves we have seen allot of realtors, and Ruth and Chris are hands down the best. Ruth and Chris helped us sell our home and find the house of our dreams. We relocated to a new city and when my husband got a new job downtown we had to sell our new build home after less than a year due to a horrible commute. Despite such a quick turnaround Ruth and Chris hit the streets to find us a buyer willing to offer a fair price. They were a wealth of knowledge in helping us find a new home that we love, and stood by us every step of the way from the search, through closing, and beyond. They were available 24/7/365 to answer all of our questions and address every concern. Also, you won't find two nicer people, that are just fun to be around! You're crazy not to use Ruth and Chris!"Iona – Houston Homeowner
Do You Want To Give Your Home The Second Chance It Deserves??
If You Said "Yes", Then Give Us A Call Right Away!
---
29 Essential Tips That Get Homes Sold Fast (And For Top Dollar)
Selling your home is one of the most important steps in your life. Here are 29 essential tips you must know…
For most people, selling their home means cashing in their biggest asset. In other words, it must be handled with great care if you hope to protect—and capitalize on—your investment.
This guide was written with one goal in mind: to give you the tools you need to maximize your profits, maintain control, and reduce the stress that comes with the home-selling process.
Tip No. 1 Know why you're selling.
The reason you look closely at why you want to sell is that your motivations play an important role in the process. They affect everything from setting a price, to deciding how much time and money you'll invest to get your home ready for selling.
For example, what's more important to you: the money you walk away with, or the length of time your property is on the market? If your goal is a quick sale, that can dictate one kind of approach. If you want to maximize your profit, the sales process will almost certainly take longer.
Tip No. 2 Once you know, keep it to yourself.
Your reasons will affect how you negotiate the sale of your home, but they shouldn't be given as ammunition to the person who wants to buy it. For example, a prospective buyer who knows you must move quickly has you at their mercy in the negotiation process. When asked, simply say that your housing needs have changed. Your reasons are nobody's business but your own.
Tip No. 3 Do your homework before setting a price.
Settling on an offering price shouldn't be done lightly. Once you've set your price, you've told buyers the absolute maximum they have to pay for your home. The trick for the seller is to get a selling price as close to the offering price as possible. If you start out by pricing too high, you might not be taken seriously by prospective buyers and their agents. A price too low can result in selling for much less than you had hoped for.
Setting your home's sale price can be a fairly easy process. If you live in a subdivision comprised of homes with similar or identical floor plans, built in the same time period, then all you have to do is look at recent sales in the neighborhood to give you a good ballpark figure.
But many people live in older neighborhoods that have changed quite a bit over the years. Every home in your neighborhood may be different in minor or substantial ways—the house next door may have added another bedroom, for example, or the one across the street might have been built recently to fill a vacant lot. As a neighborhood evolves over the years, you may find that there aren't any homes that are truly comparable to your own.
If you decide to sell your home on your own, the most common way to set a value is to look at homes that have sold in your neighborhood within the past six to 12 months, as well as those now on the market. That's certainly how prospective buyers will assess the worth of your home.
You can usually learn what homes have sold for in your neighborhood by making a quick trip to City Hall; home sale information is in the public records in most communities (but not all).
If this sounds like a lot of work, you may decide to hire a Realtor.® Your Realtor® will do all the market research and provide you with comps showing where your home should be priced to best meet your goals—a fast sell, maximum profit, etc.
[email-download download_id="449″ contact_form_id="458″ html_class="use-floating-validation-tip"]